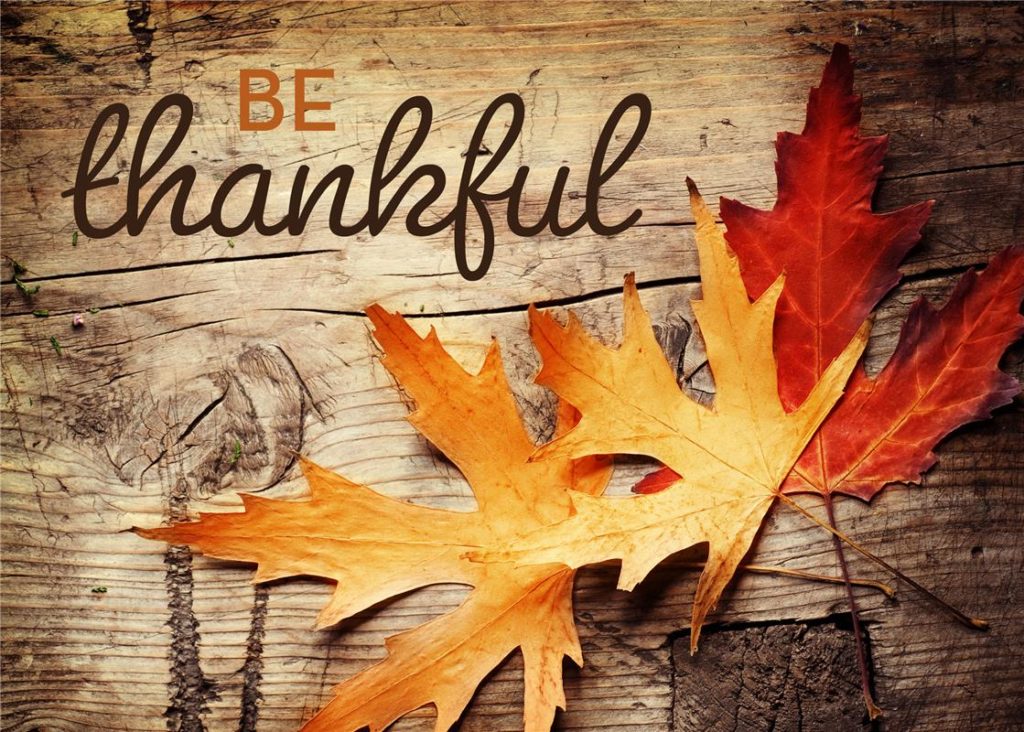 The trees are changing colors, it's getting darker outside and the temperatures are falling. The holidays are quickly approaching and we are starting to reflect on the last year and think about what we are thankful for this year. Here are some of our staff's thoughts.
What are you thankful for this Thanksgiving?
Wendy Pfeil: There are so many things to be thankful for, first I am thankful for my family that through all the craziness of 2018, we are still able to sit down at dinner and laugh together. Secondly, I am thankful for my work family. Whether we are celebrating successful events, birthdays, holidays or just everyday fun, we also are there for each in times of need from sickness to death. There is no other team I would rather be a part of. Finally, I am thankful for you, our chamber members. You are the reason the chamber exists. Each and every day we strive to make this a better chamber to serve your needs and the needs of the Belleville community.
Beth Tucker: The gift of wonderful family memories.
Diana Goebel: Having wonderful friends and family to spend this holiday with and the memories of those that are not longer here. My awesome husband that puts up with me and our new kitten. Having had the chance to travel as much as we have this last year. My new nephew. Good health and a good job.
Peggy Schifferdecker: Family, Friends, a Wonderful Work Family!
Cathleen Lindauer: I am always so thankful when we have harvested all the crops from the farm fields safely with my family. I am also thankful for all my chamber friends for the wonderful events we shared throughout the 2018 year.
Alicia Slocomb: Of course I am thankful for family,
friendships, health, love, light, and laughter; but I am also thankful for the places and times we can create true community — where diverse people come together for a common cause of making this world a better place.
What is your favorite Thanksgiving tradition?
Wendy Pfeil: My favorite Thanksgiving tradition was when we were kids and we would all gather at my Grandpa & Grandma Ferguson's house and before we would even eat dinner Grandma would have the finger Jell-O out for all of us cousins to eat while our parents would tell us to save room for dinner. I bet you can all guess how that turned out.
Beth Tucker: Spending time with my grandsons, Carter & Keegan, and making new traditions.
Diana Goebel: Spending time with family and eating my mom's sweet potato casserole.
Peggy Schifferdecker: Watching the Macy's Thanksgiving Day Parade while cooking.
Cathleen Lindauer: My favorite Thanksgiving tradition is smelling the turkey in the oven while watching the Thanksgiving Day parade on television with family.
Alicia Slocomb: I have two: 1 – Ladies' Thanksgiving, where I gather friends together to share an evening together sampling favorite recipes, or recipes you want to try out prior to "the big day". 2 – Actual turkey day, when we clear out the dining room and living room to make one big L shaped table to pull 25-30 people together to celebrate the best holiday… the one that celebrates food and drinks, family and friends, and for all that we are thankful!
What are you thankful for this year? Don't forget to share your thoughts with us on Facebook!