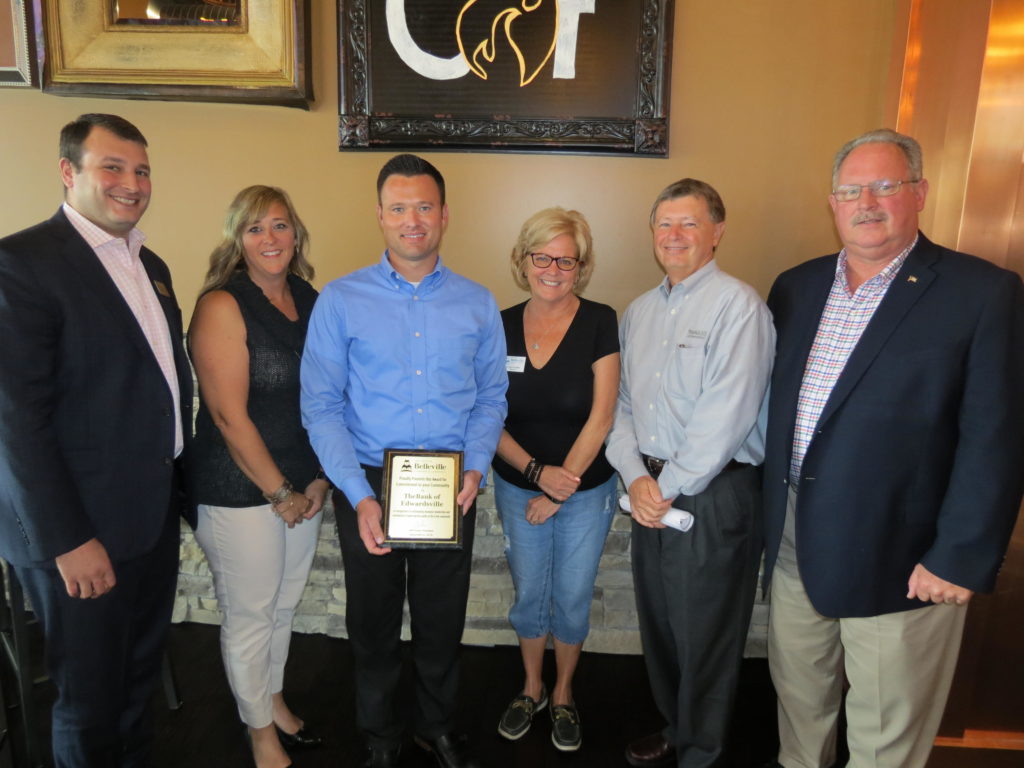 The Commitment to Community Award is presented quarterly to a Chamber Member who demonstrates a commitment to improving the quality of life for residents and/or businesses in the greater Belleville area. The Ambassadors are honored to present this quarter's award to TheBANK of Edwardsville.
Established in 1868, TheBANK of Edwardsville has been a leading, locally-owned community bank in the St. Louis metro area for 150 years. With 20 locations in Illinois and Missouri, TheBANK has a long tradition of providing personal service, offering the most innovative retail, commercial, mortgage and wealth management products and services while giving back to the communities in which it serves.
Today, they continue to strive to be "The People You Know & Trust" by providing our customers with the best possible service. At TheBANK, it's not just their goal to provide great customer service, it's their promise. Their experienced Commercial Banking experts develop customized solutions to meet the specialized needs of their customers and their officers work diligently to implement a plan that will help customers attain their business goals.
TheBANK of Edwardsville has also been a great role model in the community by their devotion to the Chamber as well as many other community organizations through sponsorship and community involvement. Employees of TheBANK have been active members of the Greater Belleville Chamber of Commerce by attending many events and being involved with multiple committees. TheBANK of Edwardsville has also been a long-time supporter of the Chamber by sponsoring events including the Annual Chili Cook-off, Annual Dinner and Silent Auction as well as submitting a team to play in the Otto Golf Classic.
TheBANK has also been recognized by others in the community. Their Trust Department was recently named to the St. Louis Business Journal's Top 10 Largest Trust Companies in the St. Louis area in the publication's annual Book of Lists. TheBANK's Trust Department was seventh on the list – and the only Illinois-based company to make the top 10 – with nearly $865 million in personal trust assets under management.
The Greater Belleville Chamber of Commerce and our Ambassadors are proud to honor them with this quarter's Commitment to Community Award.