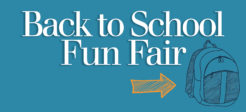 The Greater Belleville Chamber of Commerce's Education Committee hosted their annual Back to School Fun Fair on Wednesday, August 8 at Belleville West High School where area students came to receive a free backpack full of school supplies and celebrate the coming school year.
Along with their backpack full of supplies, students were also provided with a dental exam from Dental Safari. Families were also invited to celebrate back to school with a bounce house, outdoor games and a complimentary drink, hotdog and chips.
The event focused on providing area students with the supplies needed to kick off a good year. This year the event brought together over 600 children from across the Belleville area. It was an amazing opportunity to celebrate education and spend a little time getting to know local Belleville businesses.
Participating schools this year included BASSC Elementary, Belleville School District #118, Belle Valley School District #119, Governor French Academy, Harmony-Emge School District #175, High Mount Elementary School District #116, Illinois Center for Autism, Menta Academy, Signal Hill School District #181, Whiteside School District #115, Zion Lutheran Grade School and all Catholic grade schools – Blessed Sacrament, Notre Dame Academy, Sister Thea Bowman, St. Teresa and Queen of Peace
The Belleville Chamber of Commerce would like to formally thank all of the vendors and businesses who sponsored the event including: The City of Belleville and the Office of General and Community Assistance; Becker, Hoerner, Thompson & Ysursa; Dental Safari, St. Clair Township, Whiteside School, Sam's Club, Belleville District 118 PTA Council, Cambridge House, Commerce Bank, Demetria's Dancewear & Costumes, Epilepsy Foundation of Greater Southern Illinois, Illinois American Water, Metro East Pride of Southwestern Illinois, Russel Cellular, TheBANK of Edwardsville and Tribout's.
Without the support of our community and our sponsors this event would not have been possible.
Click here to watch a highlight video of the event or click here to see more photos.