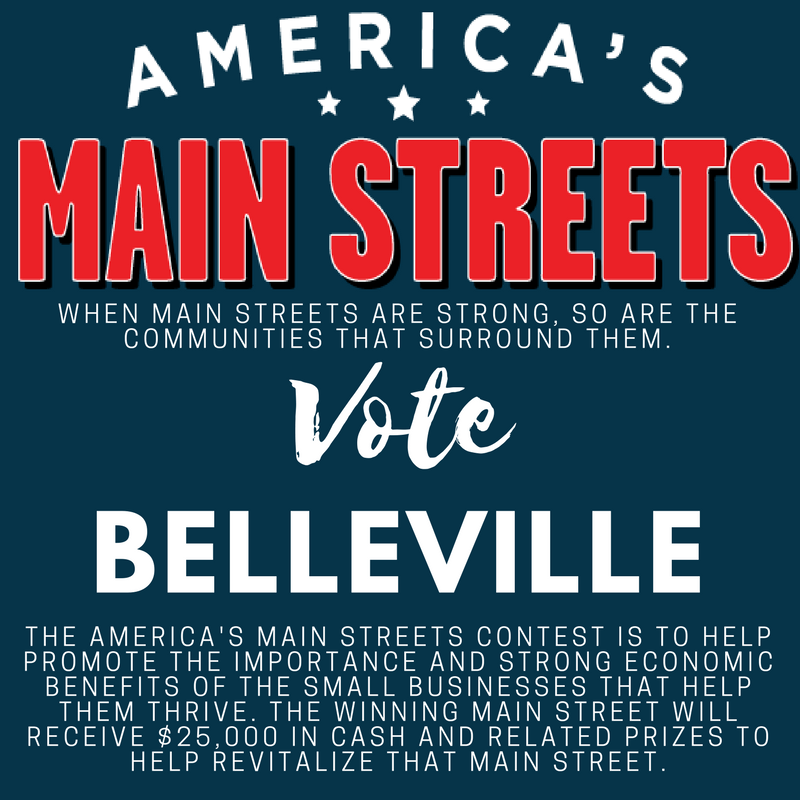 The national small business movement, Independent We Stand, announces the quarterfinalists, including Belleville Main Street, in the 2018 "America's Main Streets" contest. As the lifeblood of our cities and towns, Main Streets play an important role in the long-term success of communities and help build a sense of place. Independent We Stand invites the public to vote for their favorite quarterfinalist and move a deserving Main Street one step closer to the grand prize of $25,000.
"Belleville takes pride on the Mom and Pop shops in business for generations as well as the newer businesses offering fresh alternatives to big chain stores, states Alicia Chillemi Slocomb, Belleville Main Street Committee Manager.  "Downtown Belleville's growing loft community and adjacent architecturally significant neighborhoods provides residential living within walking distance of all we offer. And everything comes alive under the lights at night!"
"We are in our third year of the contest and are so happy to see the passion and pride these nominees have for their Main Streets and the local businesses that keep them alive. Now it's time for consumers to show their support and vote again to move their favorites into the semifinals," explains Independent We Stand co-founder Bill Brunelle. "Our theme this year is 'Local Memories. Lasting Impact.' and this group is a terrific example of the unique experiences and economic benefits shopping local can have on a community."
More than 117,000 total votes were cast for 303 entrants during the nominations phase. The 2018 quarterfinalists in alphabetical order are:
Semifinalist voting runs now at MainStreetContest.com through May 27.
The top 10 semifinalists will be announced May 28. The winner of the 2018 "America's Main Streets" contest will be announced June 4 followed by a "Main Streets Make Us Better" celebration on the Fourth of July, when the winner will announce how the prize money will be utilized.
Contest prizes include:
STIHL Equipment Certificate for $1,000 worth of STIHL equipment good at any STIHL dealer in the U.S.
Do it Best Corp. $500 shopping spree
PPG Paints $500 shopping spree
Public relations and social media recognition
Special plaque for winner to proudly display
For more information on Belleville Main Street, visit: www.BellevilleMainStreet.net or like us on FaceBook!
To vote for "America's Main Streets" semifinalists, visit MainStreetContest.com.
You can also follow Belleville Main Street's Facebook event to get daily reminders here.