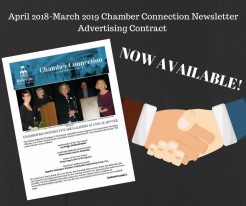 Due to staffing changes, the new advertising contract duration is now April 2018-March 2019. The Chamber Connection Newsletter is distributed the last week of each month (Example: April's newsletter will be distributed the week of March 26th).
Ad copy must be received by the deadline on the 15th of each month. (March 15th deadline to be in April newsletter)
Advertisers have the option of changing their ad monthly as long as new ad copy is received by the deadline.
Ad Sizes:                           Ad Rates:
Business Card (3.5 x 2.3) $25.00
1/4 Page (3.5 x 4.8)          $50.00
1/2 Page (7.3 x 4.8)          $100.00
Full Page (7.3 x 9.8)         $200.00
All ads must be submitted in JPEG or PDF format. Ads will be full color in the online version of the newsletter (email distribution of more than 1,600 chamber member representatives) as well as posted on the Chamber website all month long. Please contact Marketing & Communications Manager at (618) 233-2015 or by email at marketing@bellevillechamber.org.
Click here to download and print the Chamber Connection Newsletter Advertising Contract for April 2018-March 2019.