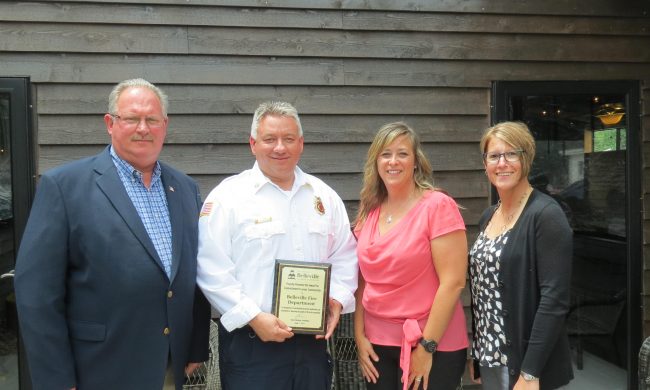 Ambassadors of the Greater Belleville Chamber of Commerce honored the Belleville Fire Department with the Commitment to Community Award on June 1, 2017. The Commitment to Community Award is presented quarterly to a Chamber Member who demonstrates a commitment to improving the quality of life for residents and/or businesses in the greater Belleville area.
The mission of the Belleville Fire Department is to provide fire safety, prevention education, inspection, suppression, investigation, and hazardous material mitigation for the community.
Over the past several years, the Belleville Fire Department has broadened the scope of their capabilities to include a water rescue venue, technical rescue, a fire investigation unit and hazardous materials mitigation. They are also fully equipped to implement ice rescues. By adding these services, they are better prepared than ever to handle any emergency situation that may arise.
Another facet of the Belleville Fire Department's role in local safety initiatives is that they are automatically dispatched to the scene of any accident that includes a bodily injury. This is of particular value to the Police Department, as many accidents involving bodily injury need additional manpower to assist police and emergency response teams. It also allows for additional traffic control to provide a safer space for emergency response teams to perform potentially lifesaving procedures. In many instances, it would take up to four police cars to be able to provide both the manpower and protection that one fire truck can provide.
Fire Chief Tom Pour states, "Over our time we have been very committed to fire extinguishment and prevention, but we have really tried in the past few years to offer our citizens as much as we can to establish a well-rounded department that is able to provide the assistance needed in any incident that happens in our city or surrounding area."
The Belleville Fire Department also participates in the Mutual Aid Box Alarm System (MABAS), which is a mutual aid measure that may be used for deploying fire, rescue and emergency medical services personnel in a multi-jurisdictional and/or multi-agency area. Belleville is one of only two fire departments south of Springfield that have a technical rescue team in the program.
The Chamber recognizes and commends the Belleville Fire Department for their expansion of services and readiness to assist Belleville and the surrounding communities. The Chamber extends its gratitude to the Belleville Fire Department for their dedication to keeping the citizens of Belleville safe.