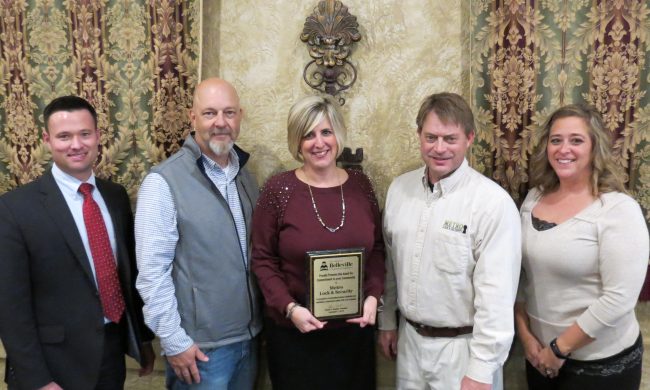 The Commitment to Community Award is presented quarterly to a Chamber Member who demonstrates a commitment to improving the quality of life for residents and/or businesses in the greater Belleville area. The Ambassadors are honored to present this quarter's award to Metro Lock & Security.
Metro Lock and Security has been keeping the Metro East safe and sound since 1990. The company, founded by brothers Bill and Lee Schreiber, provides a variety of unique sales and services to the area and are exclusive providers of numerous security products. From selling gun safes, access control systems and installing video surveillance to copying keys, unlocking cars and servicing the local banking industry, Metro Lock and Security has anything your home or business would need to feel secure.
Metro Lock and Security's mission is to help you find a security solution that best meets your needs and budget. They provide quick, friendly service to any location in the St. Louis metro area, and the clients they serve range from homeowners to Fortune 500 Companies and the Federal Government. They have 10 full-time employees located throughout the Metro East and offer round the clock emergency services. No job is too big or too small for their
dedicated team.
Metro Lock & Security has been a member of the Chamber since 2000. Although their main office moved from Belleville to Fairview Heights in 2011, they continue to be active with the Chamber and in the Belleville community. Business Manager Cari Frick says, "The relationships we established in Belleville have proven valuable. We have many lasting friendships in Belleville and enjoy volunteering and participating in the many events that make it such a unique community."
The company's recent purchase of Authorized Lock Service in Belleville, located at 310 E. Main St., demonstrates their commitment to serving the Belleville community. This acquisition will broaden their presence in Belleville and opens up new opportunities for future growth in the area.
To learn more about Metro Lock and Security, visit www.metrolock.net.