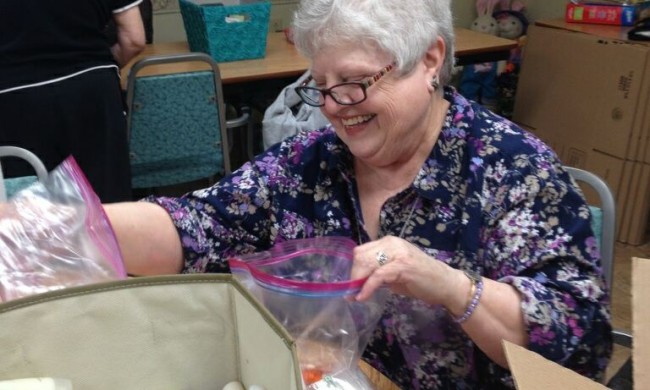 Pictured Above – Residents from Westfield Manor in Belleville helped assemble emergency hygiene kits on Monday, March 21st.
The Chamber's Healthcare Committee held its inaugural Emergency Hygiene Kit drive from February 12th to March 4th with the help of the following collection sites: Downtown Belleville YMCA, East Belleville YMCA, Junior Service Club of St. Clair County, Union United Methodist Church and the Greater Belleville Chamber of Commerce. The items called for included tooth brushes, tooth paste, shampoo, body wash, soap, tissues, deodorant, lotion, wipes, lip balm, etc.
The Healthcare Committee is pleased to announce that, with the help of the community, enough items were donated to create over 400 Emergency Hygiene Kits. The intention is to help people in need of immediate hygiene assistance, such as people who are homeless, suffer from house fires and environmental displacements, or otherwise do not have the means to afford essential hygiene products.
Distribution sites for the kits include HSHS St. Elizabeth's Hospital & Memorial Hospital's emergency rooms, the Belleville Fire Department, and Union United Methodist Church.
If your organization would like to get involved in next year's drive, please contact Laurie Bauer at 618-830-7196 or laurieb@thecancercenter.com.
Thank you to everyone who participated!