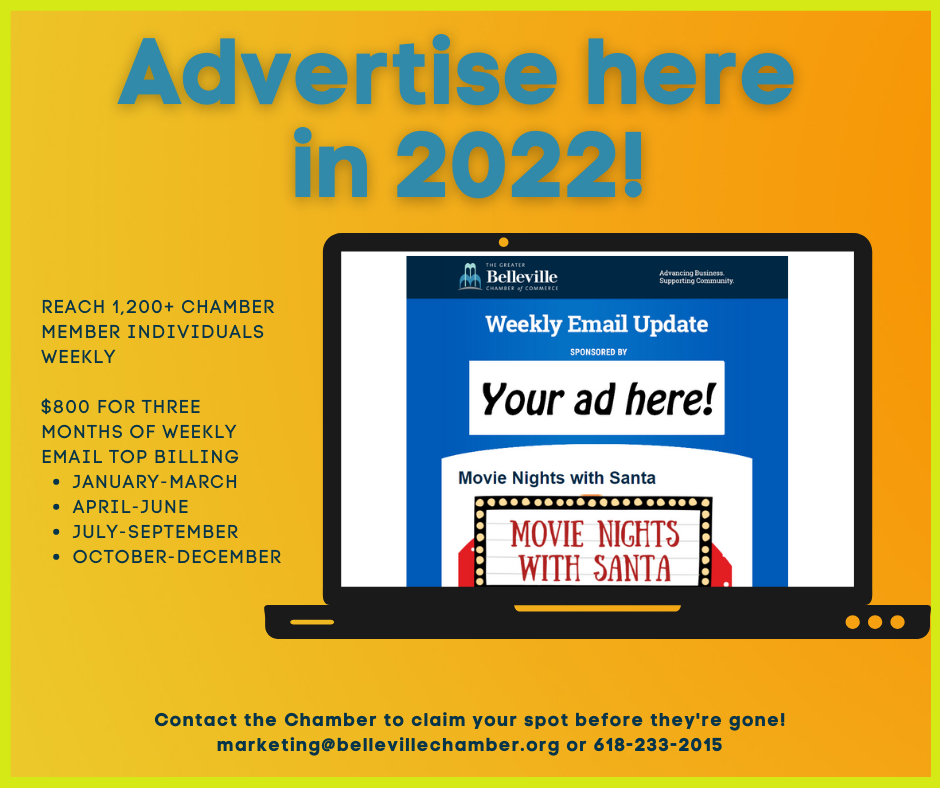 As we begin a new year, we would like to share some of our upcoming marketing opportunities (both paid and FREE!) with our business members. 
Paid Opportunities
Chamber Connection Newsletter
The Chamber Connection is a monthly newsletter that the Greater Belleville Chamber sends out via email to over 1,200 individuals throughout our business community and also shared on the chamber's website. This is a great way to support the chamber and consistently promote your business to other local businesses and individuals. Click here for more information on pricing, sizes, and more. Now through March 11, 2022, members can get a free month of advertising if you pay for 11 months upfront.
Weekly Email Banner Ad
The Greater Belleville Chamber sends a weekly email every Friday morning to the membership with upcoming chamber events as well as member-submitted events (more on that below). We offer quartly ads to be featured at the top of the email. This is $800 per quarter. To see our weekly email, click here. If you are interested in this opportunity, you can email our marketing manager to see what our current availabily is.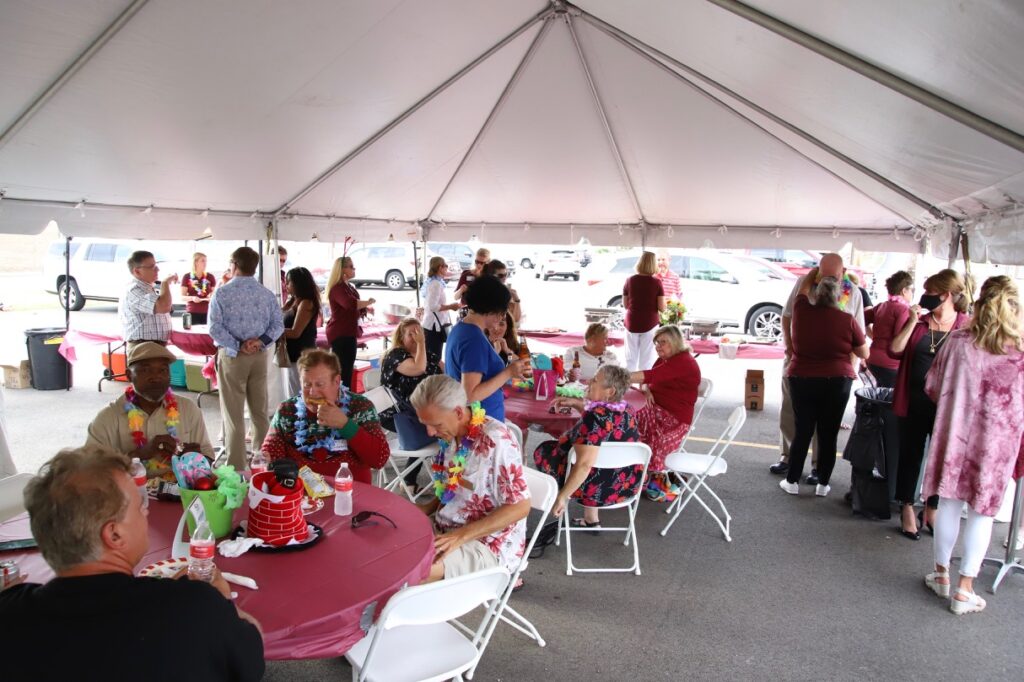 Business After Hours & Coffee Cup Connections Host
We are currently seeking businesses to host our 2022 networking events. These events are great opportunities for businesses to get people in the door to see in person and learn about the hosting business. These events are popularly saught after and tend to fill up quick! Many spots already have businesses scheduled due to rescheduling from the last couple of years but there are select months available for both events. Contact the Chamber office immediately if you think your business would like to host. You can call 618-233-2015 or email our membership manager.
Free Opportunities
Chamber Connection Newsletter Write-up
Do you have an event coming up you want to share? What about the announcement of a new employee, promotion, service, location, etc? Submit a press release or write-up ready to publish to share with others in the business community. Think of it as a newspaper article. These are due on the 15th of the month to be guaranteed a spot in the following month's newsletter (ex. Feb. 15 due date for March newsletter) to marketing@bellevillechamber.org.
Event Sharing
Does your organization have a public event coming up that you would like to share? You can add it to our website calendar which will then be shared in our weekly email update.
NEW in 2022 – Meet Our Members Monday Social Media Feature
This is a new weekly feature that we are starting on our social media. Every Monday we will highlight a different member business at no charge. The business will be asked to help with content. If you are interested in having your business featured in 2022, email our marketing manager to get on our schedule. Otherwise, they will be picked at random and contacted by our staff.
NEW in 2022 – Member Facebook Take-over
This is another new social media feature. We will offer a couple of days a week where businesses can "take over our Facebook page" by submitting pre-written posts and including a visual to go with each post that the Chamber will post throughout the day for you. All content would be due no later than 36 hours before the takeover. Email our marketing manager for more information and to schedule your Facebook takeover!
Ribbon Cutting
Are you a new business? Maybe you just celebrated an anniversary, remodel, new location opening? Celebrate with a chamber ribbon cutting! Email our membership manager to schedule yours.